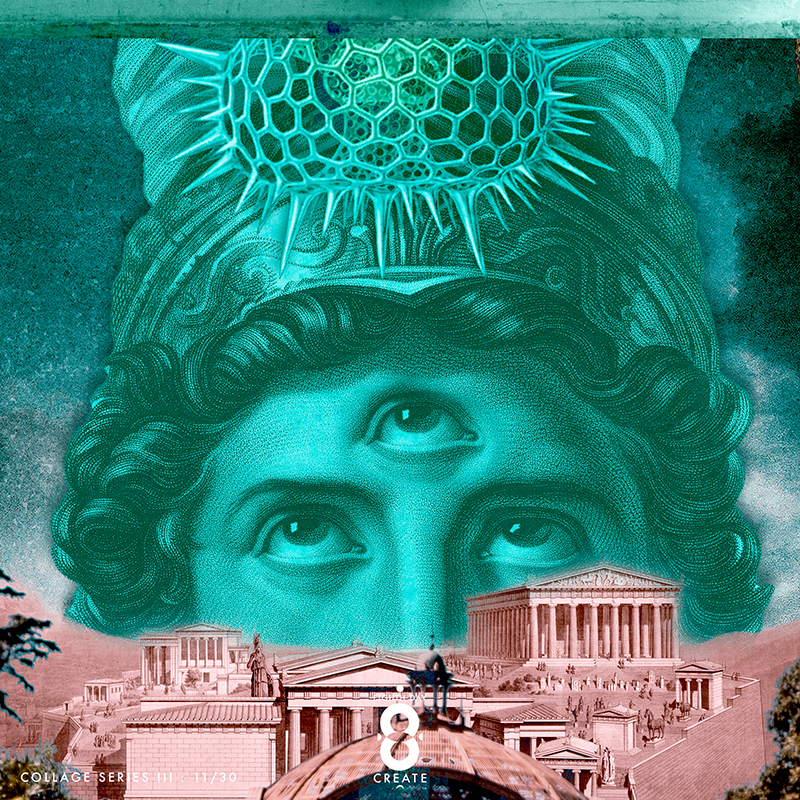 Art Prints
HOW IT STARTED
8th Day Create is proud to introduce to you a collection of open edition 8×8″ art prints!
At the beginning of 2021, Founder Brandon Palma desired a healthy outlet to fully express his visions and sharpen his creativity outside of client and commissioned-based work and engage with the more artistic dimension of graphic design. He challenged himself to engage in a daily design session, in which then he would post to social media.

THE CREATIVE APPROACH
Brandon weighed 2 options to this challenge: 1) design a new piece daily with a random theme or 2) Look at the challenge as a whole instead of separate design briefs. Brandon's solution was route 2 and to use Instagram's 3 tile setup as the canvas. 30 days for each day in the month counted for the total amount of tiles. He then created a mural-based design and cut it into 30 equal square blocks, with the final setup being 10 rows of 3 tiles each, a perfect puzzle fit to Instagram's layout. The concept is that the deployment of each tile would happen over the 30-day span, fulfilling the criteria set out in the brief.
DEPLOYMENT
Brandon first launched "Season 1" in January 2021 on Instagram, with 30 different art tiles that made a vertical-sized large design piece when pieced together. Brandon wanted to bring this puzzle-like approach to the monthly design challenge and feels he has a perfect formula of creative expression that fulfills the desire of his visions.
CURRENT OFFERINGS
Now entering into "Season 3″ of this internal creative brief, 8th Day Create has decided to offer each tile of each season as collective 8×8" Art Prints. We are currently offering 70 different prints, with "Season 1" and "Season 2" designs completed (each has 30 prints available now each) with "Season 3" currently sitting at 10. As a new design tile is revealed daily online on Instagram at @8thdaycreate, the art print will be made available to purchase as well.
CLICK ON IMAGE TO VIEW PRINTS AVAILABLE FOR PURCHASE