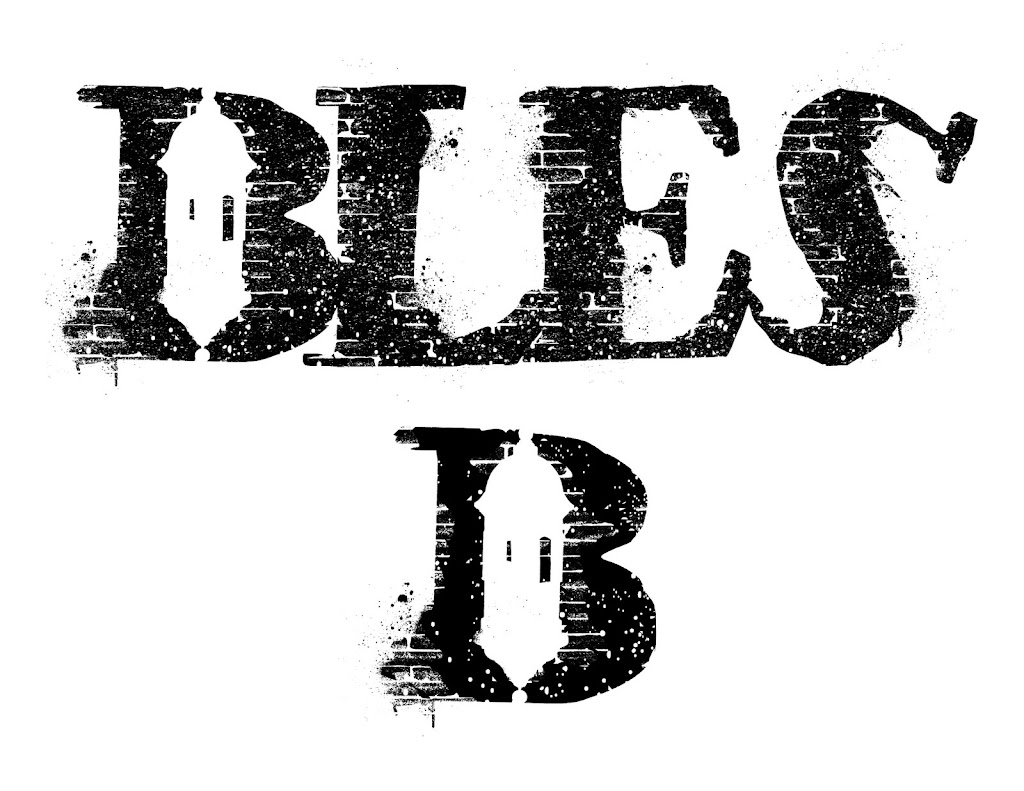 Case Study :: Logo Design for Beatmaker Extraordinaire "BLES"
From what I understand so far visual communication is EVERYTHING in this current reality.  It sets the stage for our senses so that we may experience the essence of time in a unique perspective.    As a graphic designer, I have the wonderful opportunity to help create symbols that represents one's creative work.  
Back in early 2007, I wanted to reach out to a wider audience and wanted to get involved with music.  I had a few ideas, but I felt reaching out to my 1st home Puerto Rico for musical acts would be the best move to make.  I reached out to a classmate from my school days in Puerto Rico named Eli Rios.  It turned out that Eli had become a beat producer under the name of BLES, and was making some future classic sounds with his musical interpretations. His sound is a mix of hip hop, 70's salsa, latin beats, and a crisp boom boom bap sound.  After reintroducing myself to him and exchanging a few conversations we both decided to collaborate.
The first thing to take care of was the logo. It was of the utmost importance in establishing a symbol, so a few rounds were thrown around.  Here was what sparked the first round.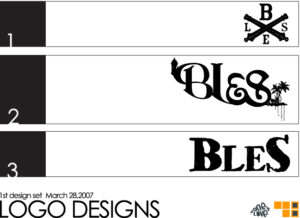 figure 1. Bles Design Round 1
There were a few eye catchers but nothing getting the spirt, so a second round was next.
figure 2. Bles Design Round 2
This time around we had formed the basis of what would be the final symbol.  Using the strong uppercase B such as found in example figure 2, 6, and the combination of the iconic fort found in Old San Juan, the perfect set was found.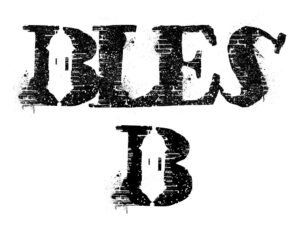 figure 3. Bles Logo Final
This design became the final outcome and the official logo for Bles.  The symbol contains a bold Serif B with a bit of roughness around.  This roughnes and street look represents Old San Juan, Puerto Rico and the cobblestown streets.  The "garita" found in the B is a well known Puerto Rican symbol, and it represents the roots of Bles & his music.
It's safe to say that homie vibed with it 100%.  As time continued into Summer 2008, more music was made and designs followed.  Bles covered albums such as Jay-Z's American Gangster with his own rendition of a few key tracks.  It was during his trip back home to Puerto Rico where Bles had been, well, blessed!
Here is the story straight from Bles himself with supporting photos!
So I've been looking to get my B logo tattooed for quite some time now. what better place to get it done than in the place where it all started, the foundation for what the logo stands for…Puerto Rico. i took advantage that i was taking a trip down to the island and decided to hit up bna crew's blen 167, a legend/veteran in the graffiti scene (in PR) who's also been doing tattoos for some time now, after his generous offering of doing it for free!
i had not yet met him, at that point we had only communicated through myspace and i had only seen pics of him marking up some of my favorite artists, whom coincidentally, are some of the same artists I've had the pleasure to work with in the past..to mention a couple, Babalu machete (a veteran in the underground hip hop scene in PR), and Mexicano 777 (basically a living legend to mainstream spanish hip hop & reggaeton scene in PR).
it was crazy though even as i was on my way to the shop driving I'd see his pieces everywhere..and i mean EVERYWHERE. i stopped to get gas somewhere around Canovanas, and as I'm pumping gas I'm just gazing around..next thing you know BAM!…. "Blen 167" graffittied up on an abandoned truck trailer on the side of the road..once i got to my hometown of Fajardo (where i was partially raised at) his pieces were all over the place, wall after wall after wall.
OFF THAT once i finally reached Ceiba, and after driving around el pueblo for about 30 minutes i finally got to the All Star Tattoo Shop. After waiting for about 3 hours it was finally my turn..i wanted nothing fancy, just the B logo on the forearm. 
figure 4. Blen tattoo's Bles
Blen was extremely humble, mad cool down to earth & is a big fan of hip hop. we politicked about music for the most part, as he did his thing and classic old school jams blasted courtesy of Sirius satellite radio..
he mentioned how he first came across my page on myspace and how he instantly liked my shit, and admitted to "jacking beats off of my page" to post them on his. He also joked about his frustration every time i'd post a new track up but it wouldn't be available for download which i found kind of funny and flattering at the same time. "Every time someone asks me for beats or asks if I know anybody who does beats you're the first person that comes to mind. I always send them to your page first!" he said. "That's wassup".With BNA crew's 30th anniversary approaching (August 24th), its kind of ill i was able to sit one on one and get marked up with one of the crew's legendary members..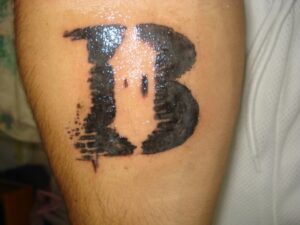 figure 5.  The Outcome!
the tattoo remains unfinished as it will go through at least two more touch ups before its complete, but it is definitely the marking (literally) of a new beginning of whats yet to come from B.L.E.S.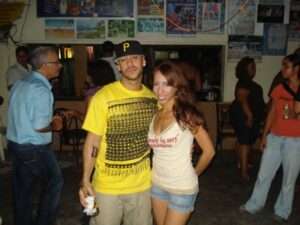 figure 6. Bles chillin with his sister Melly!
I was very honored and humbled to have been a part of this creation with meaning. I feel as a designer, having your artwork tattoed is a great blessing, haha! It is definitely cool to see how artwork inspires others!

– Brandon Palma, 2009